A Saturday Afternoon Out at Yanqi Island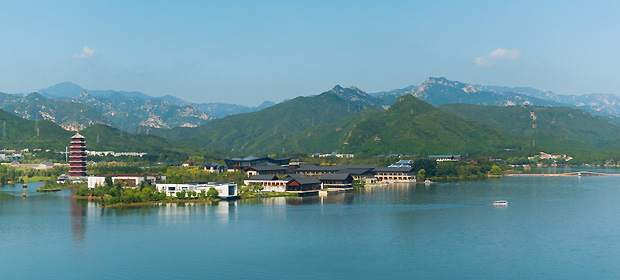 A Saturday Afternoon Out at Yanqi Island
Indulge yourself every Saturday on an "Afternoon out" at Yanqi Hotel managed by Kempinski's Waterside restaurant. The family-friendly afternoon offers a new concept of weekend relaxation, which will definitely create a unique family retreat experience in Beijing.
Yanqi Hotel is located on Yanqi Lake and is surrounded by the magnificent Yanshan Mountain and Yanqi Lake. Spoil your children with various, exciting kids' activities, such as kids 'cooking class, pet zoo and kids club(until 19:00), while you enjoy a pleasant afternoon with us including superb Saturday Brunch with live-band entertainment, Yanqi Island tour leading by concierge(14:30) and usage of swimming pool and sauna(until 19:00)
You will find the buffet's seafood station fully stocked with Boston Lobster, New Zealand oysters, Alaska crab legs, scallops and much more. Moreover, the culinary team is busy behind live cooking stations, ready for your order of grilled seasonal vegetables, snapper, lamb, steak and mixed sausages, not forgetting the must- haves such as roast duck, BBQ pork and Chinese dim sum. Last but not least, this buffet will challenge you to save some room for the selection of desserts: pies, tarts, crêpes, soufflés and of ice cream.
Let the little ones enjoy the best part of being a child. To cater for the children, our pastry chef prepares a special treats corner - kids buffet at Kempi Deli, with lots of colorful desserts, confectionery, sweets in cartoon characters and small toys decoration in bar counter which every child will enjoy. Our designed Kid's' Corner will keep every child entertained while mum and dad enjoy their afternoon. Moreover, all the kids can get a close look at the cute animals, including hairy rabbits and adorable lambs, at our outside pet zoo.
Saturday Brunch: Saturday, 12:00-15:00
A Saturday Afternoon Out: Saturday, 12:00-19:00
Saturday Brunch: Start from RMB 428/person
A Saturday Afternoon Out: Start from RMB 498/person * RMB218/kid (Free for kids below 6)

Reservations can be made by calling +86 10 69618888-82707
###
Editor's Notes:
Located 60 km north of Beijing's city centre, alongside the picturesque Yanqi Lake and featuring panoramic views of Yan Mountain and the Mutianyu section of the Great Wall, Sunrise Kempinski Hotel, Beijing & Yanqi Island is Kempinski's largest property in China.
This new destination, managed by Kempinski, and owned by state-owned Beijing Enterprise Group, includes 590 guestrooms and suites housed across Sunrise Kempinski Hotel, Beijing & Yanqi Island, located along the lake, the Yanqi Hotel and 12 Boutique Hotels, located on Yanqi Island. Leisure facilities include 11 restaurants and bars, two Kempinski The Spa centres, a private marina, the Yanqi Pagoda, recreational and fitness facilities, the Kids Club and beautifully landscaped gardens.
With 14,069 sq m of meeting space, spread across the 8,277 sq m Beijing Yanqi Lake International Conference Centre, and hotels with four ballrooms and 23 meeting rooms, this new destination is designed to host high-profile government conferences and is set to become the location of choice for global summits and large-scale international meetings in the region.
Be it dining with loved ones, entertaining business associates, hosting a meeting or staging a conference, celebrating a large or intimate wedding, or a weekend escape with the family, the facilities at Sunrise Kempinski Hotel, Beijing & Yanqi Island offer guests a surprising change from their traditional experience in a resort hotel.