You are here
Bad Weather & Pollution Policies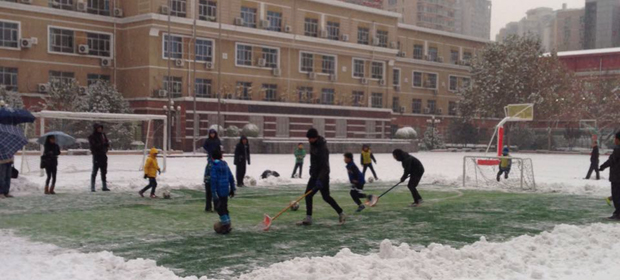 At ClubFootball we consider your children's health and wellbeing to be of paramount importance. Therefore if playing conditions are unsafe, or are deemed to pose an unreasonable risk to the players, we will cancel the session. This page contains more details about the reasons why we will cancel a class, and what procedures we follow when we do.
These guidelines apply to all ClubFootball courses at public or private venues, and are reviewed prior to the start of every season to ensure they are based on the most up-to-date information. For clarification on the following policies or if you have any other questions regarding our adverse weather and pollution policies please click here to contact us.
Session Cancellation Notices
To ensure that all parents have quick access to decisions on weather & pollution-related information, notice of cancellations will be posted on our official Weixin/WeChat account.
Please note that due to the unreliable nature and frequency of delays when sending large numbers of SMS's, we will no longer be sending SMS's to inform of cancellations due to weather. On days when pollution is likely to force a cancellation, please make sure you check the club's Weixin/WeChat account 'WGQXJuniors' for updates, check the AQI reading yourself (at http://iphone.bjair.info). Please make sure the reading displayed at the time you check is the correct one - the 07:00am reading is listed as the 07:00am reading but is generally uploaded at around 07:10am!
Of course, if parents decide that they do not want their child to attend a session, that is entirely their prerogative, but please note that where a session goes ahead and a student chooses not to attend, the fee for that class will not be refunded.
Bad Weather Cancellations
Sessions will only be cancelled due to bad weather in the following instances:-
When heavy rain or snow makes the pitch dangerous and/or unplayable.

When thunder and lightning make play dangerous.

During thunderstorms or dust storms when lightning, particulate matter, and/or strong winds pose a significant risk to players' wellbeing.
Please note that, except for these situations, sessions will go ahead as scheduled – including sessions played in light or moderate rain.
Air Pollution Cancellations
Where ClubFootball runs midweek classes as part of a school ASA (After School Activity), we will adhere to the own pollution policy.
(Please note that ClubFootball's midweek classes at ISB and BSB are not part of the official ASA programme and therefore follow ClubFootball's own pollution policies).
For all other programmes, sessions will be cancelled where the AQI is over 200 at the times as listed below,with the exception of ISB where the cut-off point is 250.
ClubFootball Pollution Guidelines

Course Type

Limit

Time of Reading

Midweek skills courses

200

13:00 pm

Weekend sessions starting before 12:00 pm

200

07:00 am

Weekend sessions starting after 12:00 pm

200

11:00 am

Junior league training sessions

200

2hrs before session time

Junior league matches - BIJFL

Junior league matches - HIJFL

200

07:00 am

06:00 am
Please note that the decision to cancel will be based on the reading at the time above, and NOT on the reading at the actual class-time. Where air quality is not good but below cancellation levels, coaches will adapt the session content to involve less aerobic activity and focus instead on technical and tactical aspects.
To determine whether or not the AQI reading is sufficient to trigger a cancellation we take the reading from the official American Embassy website (http://iphone.bjair.info). If this link is not working, the central city reading at http://aqicn.org/city/beijing/ will be used instead.
The following chart outlines the pollution indices and color codes according to the EPA graduation*, and the steps ClubFootball take at each stage:-
| | | |
| --- | --- | --- |
| AQI Value | AQI Level | ClubFootball Policy Action |
| 0 - 50 | Good | Classes continue as normal |
| 51 - 100 | Moderate | Classes continue as normal |
| 101 - 150 | Unhealthy for Sensitive Groups | Classes continue as normal |
| 151 - 200 | Unhealthy | Classes adapted to contain reduced aerobic activity |
| 201 - 300 | Very Unhealthy | Outdoor sessions cancelled. Indoor classes continue as normal. |
| 301 - 500 | Hazardous | Outdoor sessions cancelled. Indoor classes continue as normal. |
*For more information about the EPA graduation visit the AirNow or Wikipedia websites