ClubFootball Culture Store Kicks Off!
ClubFootball is delighted to announce the 'soft launch' of the 'ClubFootball Culture Store' on Taobao featuring some fantastic gift ideas for the festive season!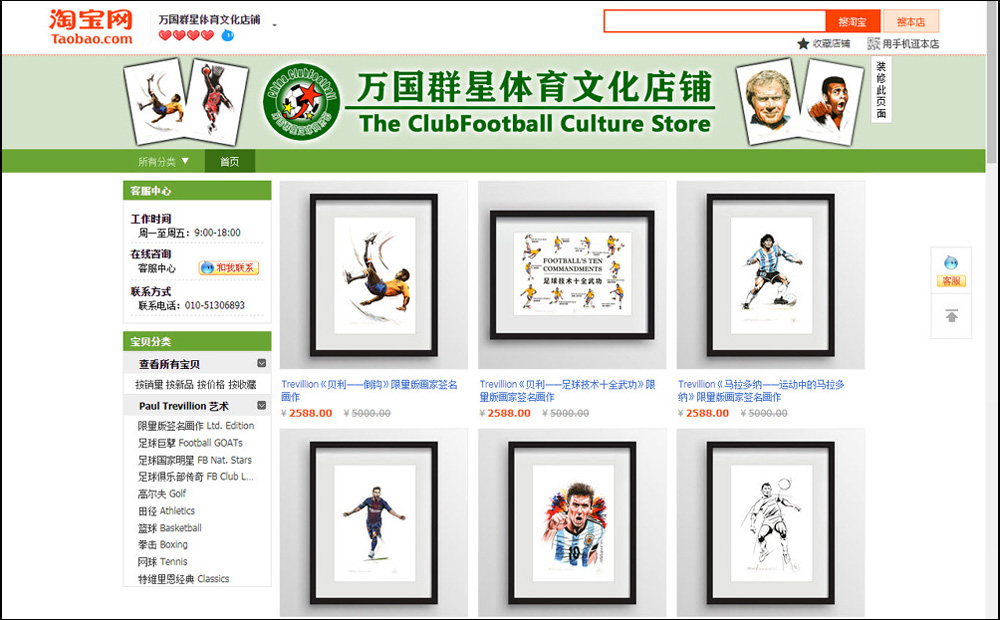 Please click the link below to visit the ClubFootball Culture Store!
https://shop113098830.taobao.com
To start the ball rolling, we are featuring a range of 52x framed, autographed, limited edition prints, from one of the world's premier sports artists, Mr. Paul Trevillion.

With a journey spanning 60 years, Trevillion has rubbed shoulders with icons from Winston Churchill to Pele, who once paid him the ultimate compliment, telling him "When I was born God kissed my feet to make me a great footballer. He kissed your hand to make you a great artist."

As you'll see there are some stunning images from across the world of sport, with football dominating the collection, but sports from golf to basketball, athletics, tennis & boxing are also well-represented.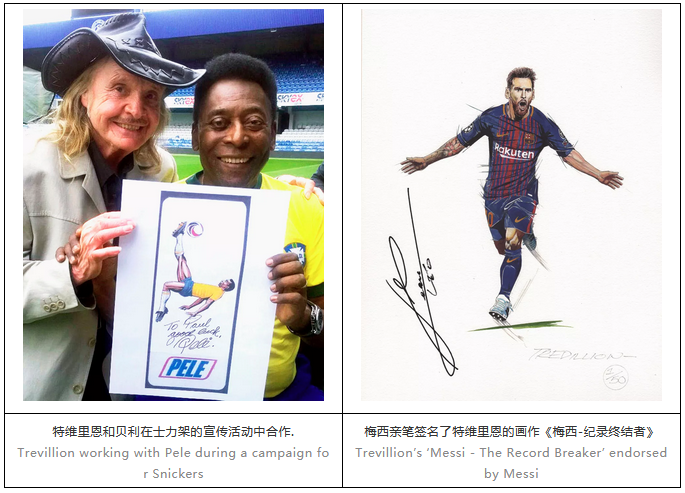 At present, we're not disseminating this announcement to anyone outside ClubFootball's own WeChat groups, as we hope to garner your feedback before a public launch. With this in mind, we'd be very grateful it you'd consider helping us out with the following ...

1. Take a look at the store
2. If you like it then please bookmark it (收藏店铺)
3. If you have any feedback (positive or negative) please let us know

Finally, if you're tempted to make a purchase, please do feel free to do so! :) We're well-equipped to fulfill your order and have substantially reduced all prices by way of a "Members Discount". Not that we're pushing, but a couple of prints have already been sold in China at the full retail price, so we're confident that 'early birds' are getting a great deal.

In due course, we plan to greatly expand the store and we'll certainly be back in touch to ask for your help and support in doing so. In the meantime, we'd be grateful if you'd keep this news within the ClubFootball community.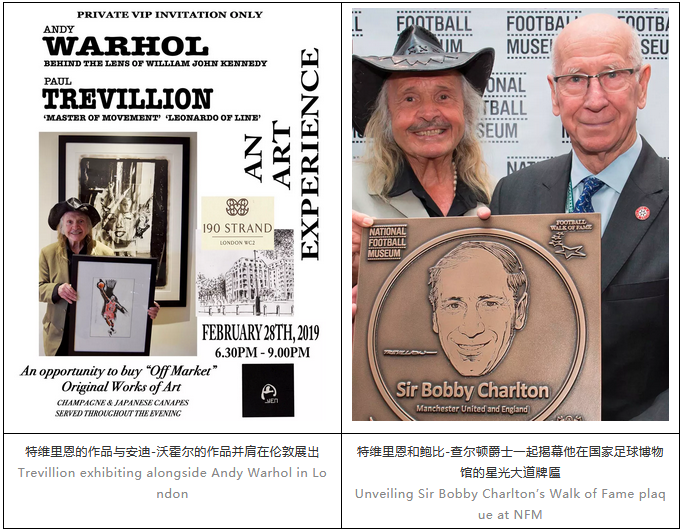 CF Culture Store & Catalogues
PAUL TREVILLION BIO

Paul Trevillion is a globally acclaimed sports artist, author, inventor and motivator whose career spans over 60 years. Born in 1934 in London, just a 'corner kick' away from his beloved Tottenham Hotspur Football Club, Trevillion's extraordinary artistic talent was discovered and nurtured at a very young age.

Encouraged by family, school teachers, and most notably Sir Winston Churchill and HRH Prince Philip, the Duke of Edinburgh, he pursued a ground breaking career in the world of sporting art which has seen his original work published in Europe, USA, Australia, Japan and South Africa.

Trevillion's natural gift in taking the medium of pen and ink to its limitations and beyond, has been best described by author and highly respected art historian Susie Hodge MA FRSA, "Paul adds washes of vibrant colour. Nothing is laboured or overworked.....not a static photographic rendition, but a free fluid image that not only captures movements, form and mannerisms, but spirit and power....Paul Trevillion is the Pele of Sporting Art."

As a schoolboy Trevillion was driven to achieve his dream of becoming a professional artist, so he approached the editors of the highly popular comic publications 'Eagle', 'Tiger' and 'Roy of the Rovers'. His talent was recognised, and commissions to create art features and comic strips quickly followed.

In 1952, Trevillion received a letter from HRH Prince Philip, the Duke of Edinburgh praising him for his artwork – The letter appeared in the National Press and launched Trevillion's sporting career in the 'Sporting Record' with drawings of the England and Australian cricketers for the 1953 Coronation Ashes.

In 1955, Trevillion was honoured with a meeting with Sir Winston Churchill. Over coffee Sir Winston Churchill's inspiring advice ended when Sir Winston Churchill personally signed the portrait Trevillion had painted. This painting is the only signed original portrait of Sir Winston Churchill in existence.

Trevillion's break through into the national press, came in the Sunday People in 1957 with a series devised and illustrated by Trevillion called 'Hey Ref!' which later Trevillion renamed 'YOU ARE THE REF' ... a feature which, nearly sixty years later, now appears as a weekly feature in the Sunday Observer and Guardian Online.

In the early 1960's Trevillion would defy the 'comic-look' demands of the Roy of the Rovers editors and create his hugely successful 'Comic Art Realism' style which brought Roy Race to life. Suddenly Roy changed from a comic character to a real life superstar football hero.

From the 1960's onwards, Trevillion's dynamic art featured in almost every national newspaper in the UK. Acknowledged as 'The best black & white artist in the business', Trevillion devised and illustrated instructional based art for the Daily Mirror, Daily Express, The Sun, Daily Mail, The Telegraph, The Times, Sunday Times, Guardian and Observer.

Trevillion's art is recognised for its ability to bring a subject to life, to take a static image and create a moving figure hence the title of "THE MASTER OF MOVEMENT".