YCIS Annual Global Community Day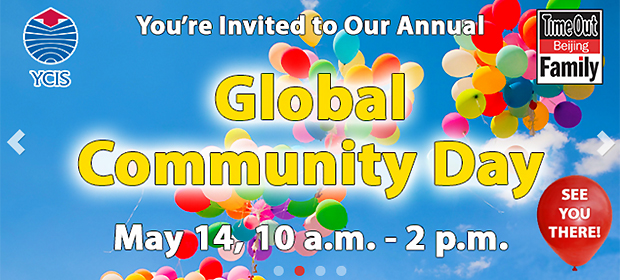 The YCIS Beijing Parent Organization warmly invites the wider Beijing Community to their 8th annual Global Community Day on Saturday, May 14, 2016.
Global Community Day is hosted on the YCIS Beijing Campus with the mission of showcasing the very best of each and every culture in the school while unifying us all as global citizens in Beijing. Global Community day is also the annual charity event for the YCIS Beijing PO; all the money raised at the event is donated to the "YCIS Seeds of Hope" charity.
Join us on this special day when an outstanding number of booths operated by parents, students, and selected businesses allow families to sample a myriad of national delicacies, play exciting games, and embrace the multicultural environment that YCIS Beijing prides itself on fostering.Performances will be held throughout the day, including the YCIS Beijing Jazz Band, Primary Choir, Secondary Orchestra, and a very special performance by YCIS Beijing's very own Parent Organization.
Date: Saturday May 14, 2016
Time: 10 a.m. – 2 p.m.
Location: YCIS Beijing Campus
Mark your calendars and come join us this May!
For more information, please email info@bj.ycef.com.