BCIS's Annual 'Spring in the City Fair'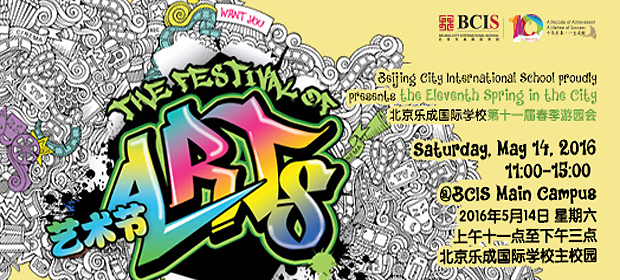 BCSI is very pleased to announce its annual Spring in the City fair on Saturday, May 14, from 11:00 to 15:00 at their Main Campus on Baiziwan Nan Er Lu.The theme this year is "The Festival of Arts" and it would be a dramatic, filmic and artistic day that will leave you calling "Bravo! Encore!"
While you're walking around the campus enjoying the stalls, family games, delicious food, don't miss our live stage show, this year featuring:
· Special opening drama performance by the Secondary School students
· Live music from students across the whole school
· Announcement of the Flux Film Festival awards
· Raffle draw with amazing prizes from our sponsors
You'll also be able to enjoy stunning Visual Arts exhibits, and even purchase some pieces at the Banana Arts charity event, entirely run by the students. If you want to see all the artistic talent that the BCIS community has to offer, then May 14 is a day to mark in your calendar! What's more, it's absolutely free to come in and it is open to the public. In mid-May, come into our community and share a perfect family day! Save the date!
Click here to visit the website.