BCIS Harvest Festival 2016!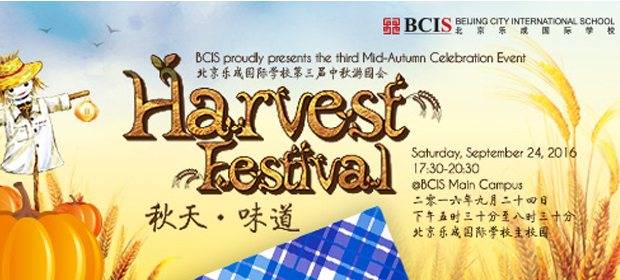 BCIS's annual autumn event, "Harvest Festival," will take place on Saturday, September 24 from 17:30 to 20:30 on the BCIS field. As a celebration of the school's Chinese roots, BCIS will hold many fun-filled activities to commemorate this important occasion in the Chinese traditional culture. Some of these include:
Lighting up ceremony under the bright moon: To mark this very momentous occasion, will light lanterns, as tradition dictates, to celebrate the beginning of the new harvest season.

Spectacular show put on by BCIS magnificent Drama Department, which is always cooking up extraordinary delights for audiences of all ages.

Various student performances from the ECC, ES, and SS. There will certainly be something for everyone!

Traditional Chinese stage performances highlighting China's unique culture: will invite professionals in this area to provide us with dazzling entertainment.

An assortment of films depicting the values and ideals of the Mid-Autumn festival will be shown. These will include animated pictures for children, as well as more traditional movies for everyone.

Last, but certainly not least, BCIS will have over 10 traditional Chinese vendors set up stalls, along with numerous food vendors serving an array of delicious foods to keep everyone's bellies happy and energy up throughout the day. BCIS will also have an ocean ball pool for the little ones, as well as other distractions to keep everyone pleased. Since it will be celebrating outdoors, picnic blankets will be provided so that everyone may comfortably enjoy the program on the grass.
The event is free to attend and open to all. BCIS hopes that you will join us on September 24 for this wonderful celebration of togetherness and community.