The New ClubFootball Girls' Skills League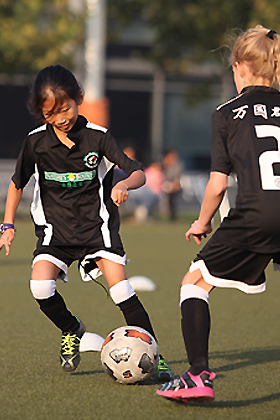 New for Spring 2016, the ClubFootball Girls' Skills League is open to girls born in 2001/2, 2003/4, and 2005/06 who already have the basic skills and are ready to step up to the next level.
Sessions are held at weekends on Pitch 12 at Chaoyang Park Sports Centre, on Sundays.
Sessions are divided into two parts - the first half features Technical Training where the players study the skills and techniques required in the modern game. In the second half, players are divided into teams and play small-sided games to put their skills into practice.
The season is divided into two mini-seasons and players stay in the same teams for each mini-season.
For an introduction to the ClubFootball Skills Leagues, please click here.
Students new to the Skills League who would like to try out the Skills League should attend the tryouts on 20th March. Please contact us to reserve a place at the tryouts.