2016 Spring Nike ClubFootball Junior Cup!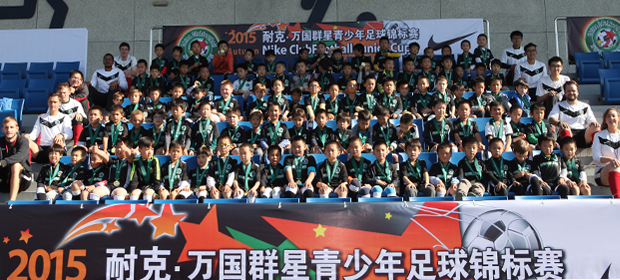 Students can register now to take part in the 2016 Spring Nike ClubFootball Junior Cup!
Held at the International School of Beijing (ISB), Shunyi (map below) on Sat 4th / Sun 5th June, the "2016 Spring Nike ClubFootball Junior Cup" is the club's festival of football, giving kids of all ages the chance to put their skills into practice in a friendly tournament environment!
The tournament is open to all children currently on CF's programmes and we expect over 1,100 students to take part over the two days! To allow us to plan teams/fixtures, students are asked to confirm whether they WILL or WILL NOT participate by Sunday 22nd May.
Please do not confirm with your school, but instead:
Complete the confirmation slip and hand to our coach, OR

Confirm by sending child's name, tournament day and time, and mobile contact number to our WeChat account – WGQX2001

Confirm by Emailing child's name, tournament day and time, and mobile contact number to kids@clubfootball.com.cn
If you confirm and then are unable to attend, please let us know. Please note that students registering late or arriving late or without confirming may not be able to play with their regular team-mates!
Please remember that weekend classes will NOT be running on Sat 4th and Sun 5th June.
New ISB Venue Regulations
Please note that security procedures are different at ISB this term! Entrance to the school for all non-ISB students is by the main North Gate only - the East and West (Yosemite) Gates are both closed. Please come early to the main gate and ClubFootball staff will check your name is on the player list to allow you access to the school. We are very grateful to the school for use of the fantastic facility so please come early and be extra-friendly to school staff, even if it takes a little time to follow the new procedures! Thank you!
2016 Spring Nike ClubFootball Junior Cup - Tournament Notes
All players must wear 2016 ClubFootball uniform/kit (black), including socks and shinpads. Players who do not yet have 2016 kit can purchase on at the Registration Desk before playing (cost 200 Rmb).

Players should report to the Registration Table 30 minutes before kick-off time to take part in their team warm-up. Players arriving after this time may not be able to play with their regular team.

Entrance to ISB is by the Main North Gate only (East & West Gates are closed).

If you confirm your participation and then are either unable to come or need to change your time, please inform us asap to keep tournament organization smooth!

Due to the nature of the event and the fact that rescheduling is not possible during the season, the event will go ahead even where pollution is above the normal ClubFootball guidelines. The event will only be cancelled if weather makes play dangerous and the pitches unplayable (eg snow, lightning or sustained heavy rain).
Important Note
All players should have received a confirmation slip from their coach with their tournament time on it. If you haven't filled it in and returned it to ClubFootball yet, please do so or call us asap to book your spot! Anyone who hasn't received their slip yet should also call to book their place.
To keep up-to-date with ClubFootball news, including information regarding cancellations due to weather or pollution, please also be sure to follow us on WeChat!
Looking forward to seeing all of you!
For detailed directions, please contact the Member Services team in the week before the event!
International School of Beijing – Location Map
The ISB is located in Shunyi; please see the map below.
Address (English): ISB, No. 10, An Hua Street, Shunyi District, Beijing 101318.