ClubFootball Junior Academy Venues
Map Of All CF Junior Academy Venues

BSB (Sanlitun)
CISB (Liangmaqiao)
Yew Chung (East 4th)
BCIS (Shuangjing)
Chaoyang Park
3e International (Lido)
Si De Park/ Lido
BIBS (Lido)
Wangjing (Wangjing)
Tiantongyuan
Olympic Forest ParkISB (Shunyi)
BSB (Shunyi)
New Talent (Shunyi)
MSB (Shunyi)
Daystar (Shunyi)
Beijing Riviera (Shunyi)
BIBA (Shunyi) Zhongguancun (Haidian)
IST (Tianjin)

ClubFootball Junior Media Partners
ClubFootball Junior Academy Partners
ClubFootball News - CF Junior Academies
Register Now for Winter Indoor Courses!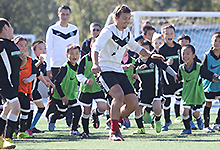 Keep active in the fresh air by registering now for ClubFootball's 2016 Winter indoor courses!
Indoor courses run indoors at venues across town, including ISB, BSB Sanlitun, BSB Shunyi, YCIS, BCIS, CISB and Lido Place. New for this Winter include MiniSkills courses for 3/4 year olds, and indoor courses for girls at BSB Sanlitun. Skills Courses, Skills League and CF Teams ensure options for players of all levels, from beginner to experienced competitive player. Please click on a link in the left tool bar for info, and
contact us
to receive materials by Email.
Girls Indoor Courses and New CF Girls' Skills League!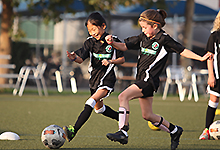 Girls from grades 2 to 8 are invited to register for new girls indoor courses at BSB Sanlitun!
Indoor course run from Jan 10th and are ideal preparation for the brand new ClubFootball Girls Skills League which will launch in Spring. The Skills League gives girls the opportunity for regular matchplay while continuing their technical development. Sessions are split into 50% skills training and 50% matchplay. For Winter schedules, please click
here
, and for more information on the Skills League, please
contact us
.
New CF MiniSkills Programme for 3 & 4 Year Olds!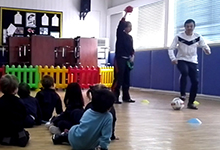 Youngsters aged 3 and 4 can register now for ClubFootball's brand new MiniSkills programme!
This programme is specifically designed to give children an introduction to football and begin to teach basic skills through themed games. Players learn to interact with other children and sessions focus on developing spatial awareness and improving motor skills. Basic dribbling skills are practised and chidlren learn to use different parts of their feet and to change direction with the ball. Above all, courses are great fun! To let kids try out the programme, we're running a free taster session at ISB on Sun 6th Dec at 09:00 (in the air-conditioned dome). To book a place, please
contact us
to arrange a tryout.
Register now for Autumn Coaching Programmes!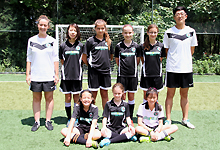 Autumn 2015 ClubFootball junior coaching programmes are now online!
Please click on a link in red on the left for weekend course information, and contact us asap to register! Courses also run after school at 20 schools around the city; please register directly at your school for these. New students (or returning students with friends) can also sign up for free tester sessions. Click
here
for a list of free tester classes. Students interested in trying out for ClubFootball抯 Skills League (Level 2, for 2003-2008 players) and ClubFootball抯 Junior League Teams (Level 3, for 2002-2009) can also
contact us
to arrange a tryout.
ClubFootball 3-Day Summer World Football Clinics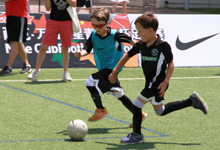 ClubFootball抯 3-Day 慦orld Football Clinics
Register now for ClubFootball Spring Courses!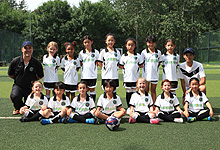 Students of all levels can register now for ClubFootball抯 2015 Spring programmes!

Weekend programmes run at ISB, Chaoyang Park, BCIS, Lido Place, BSB Sanlitun, Wangjing, Olympic Forest Park, and Zhongguancun. Click on a link for details, and see the story below for the new ClubFootball Skills League too. Taster classes run from 14/15th March and Spring courses and ClubFootball Skills League begin from 28th March onwards, depending on the venue. For advice on which course suits your child best, please Contact Us.