ClubFootball Junior Academy Venues
Map Of All CF Junior Academy Venues

BSB (Sanlitun)
CISB (Liangmaqiao)
Yew Chung (East 4th)
BCIS (Shuangjing)
Chaoyang Park
3e International (Lido)
Si De Park/ Lido
BIBS (Lido)
Wangjing (Wangjing)
Tiantongyuan
Olympic Forest ParkISB (Shunyi)
BSB (Shunyi)
New Talent (Shunyi)
MSB (Shunyi)
Daystar (Shunyi)
Beijing Riviera (Shunyi)
BIBA (Shunyi) Zhongguancun (Haidian)
IST (Tianjin)

ClubFootball Junior Media Partners
ClubFootball Junior Academy Partners
ClubFootball News - CF Junior Events
Get Sharp for the Season with 1-Day Preseason Clinics!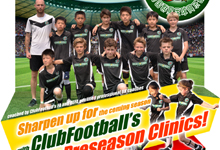 Students playing competitive football this coming season can register now for ClubFootball's brand new 1-Day Preseason Clinics!

Designed to get players 'match-sharp' for the coming season (or tryouts), these clincs run from 09:00 - 16:00 at Beijing Riviera (on the DCB pitches) on Saturday 15th August, and at ISB on Saturday 29th August. Students from all schools are welcome, and players born from 2001 to 2007 can take part. Click the Read the Full Story link just below for more details.
Sign Up For a Free Tester Session Now!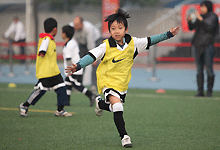 Students new to ClubFootball coaching programmes can contact us now to book a place on this Spring抯 free tester sessions!
Sessions run throughout March at Olympic Forest Park, Chaoyang Park, Zhongguancun, Wangjing, and Shuangjing. Girls classes run at Chaoyang Park, and middle school students can also check out brand new matchplay programmes too! For full schedules, please click
Register Now For Junior League Team Tryouts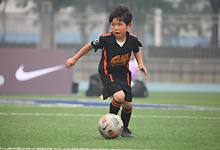 Players looking to play in ClubFootball's Junior League Teams this Autumn should book a place now on team tryouts!
Teams train midweek and compete on Sundays in the Beijing Junior International Football League (BJIFL). CBD and Shunyi-based teams are available, and age categories for Autumn 2013 are 2005/06, 2003/04, 2001/02, and 2000. Click
here
for a list of tryout times. To book a place on the tryout, please click
here
to contact us or call 5130 6893/4/5/6.
ClubFootball Teams on International Duty!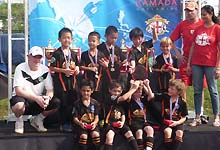 Congratulations to the ClubFootball Under 8's!

Playing in the first overseas competition together in the 2012 Ramada International Cup in Bangkok, all 3 ClubFootball sides (U8, U10 and U12) performed admirably, with the Under 8's winning the plate competition! The competition was a fantastic experience for all players, and included teams from Thailand, Malaysia, Philippines, Australia, Malaysia, Indonesia and South Korea!
2012 Autumn Nike ClubFootball Junior Cup!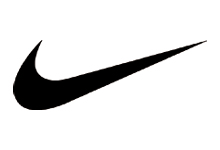 Students can contact us now to confirm their participation in the 2012 Autumn Nike ClubFootball Junior Cup!

The tournament is open to all children currently on our coaching programmes and promises to be the biggest ever with up to 1500 children taking part! For your tournament times, please click 'Read the Full Story' below, and to confirm participation, please call 5130 6893/4/5/6 x 8005, text your name, course, tournament day and time to 15901051660, or click here to mail us.
The ClubFootball Junior League Teams Awards Night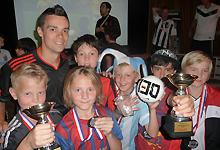 Thank you to all those who attended the ClubFootball Junior League Teams Awards Nights and made them both such fantastic evenings.

Held on Monday 11th June and Tuesday 12th June at Frank抯 Place in Lido, there were nearly 300 people in attendance enjoying the fantastic food and drink, with all of the players well dressed in their favorite football kits.