Register now for ClubFootball Spring Courses!
Posted on Monday, March 09 @ 19:06:57 CST by cfpr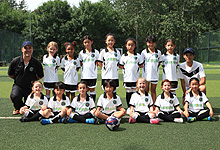 Students of all levels can register now for ClubFootball抯 2015 Spring programmes!

Weekend programmes run at ISB, Chaoyang Park, BCIS, Lido Place, BSB Sanlitun, Wangjing, Olympic Forest Park, and Zhongguancun. Click on a link for details, and see the story below for the new ClubFootball Skills League too. Taster classes run from 14/15th March and Spring courses and ClubFootball Skills League begin from 28th March onwards, depending on the venue. For advice on which course suits your child best, please Contact Us.