Try Out for the New ClubFootball Skills League!
Posted on Monday, March 09 @ 18:59:38 CST by cfpr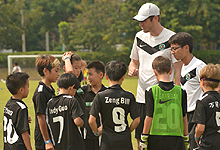 Students born in 2004/05 and 2006/07 can try out now for a place in the new ClubFootball Skills League.

This completely new league is Level 2 of ClubFootball抯 3-level developmental pyramid, in between Skills Courses (Level 1), and League Teams (Level 3), and allows students to further develop their techniques and skills while also getting the opportunity to put these into practice in regular weekly league matches. 90-minute weekend sessions are split into 45 minutes of technical training followed by 45 minutes of league matchplay, with optional midweek technical sessions also available. Tryouts are held on the weekend of 14th and 15th March. Please click here for full details.