Free Taster Sessions for New Students!
Posted on Wednesday, March 04 @ 21:49:36 CST by cfpr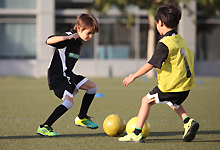 New to ClubFootball Coaching? Why not sign up now for a free taster class?

Taster classes allow kids to try out a session before registering and run throughout March at Chaoyang Park, Olympic Forest Park, Shuangjing, Sanlitun, Wangjing, and Zhongguancun. Everyone is welcome, from complete beginners to advanced players! Please click here for a full schedule of taster sessions, and contact us asap to book a place. Students already on ClubFootball programmes are also welcome to come along, providing they bring a new student with them, and current students enjoy a bring-a-friend discount of 10% for every student they bring along who signs up for a Spring programme!