Well Played the CF Foxes and Falcons!
Posted on Wednesday, December 10 @ 17:47:56 CST by cfpr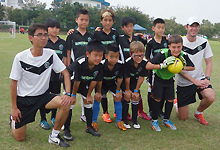 Congratulations to the CF Shunyi Foxes and to the CF CBD Falcons!

The CF Shunyi Foxes endured a dramatic last-day finale to the 2005 Beijing International Junior Football League to emerge as champions, pipping Ole Crocodiles 1-0 in a title-decider. The Foxes were runners-up in the Spring competition but managed to go one better in Autumn! The Falcons (pictured) took second place in the CUKI International Cup in Bangkok, earlier in the month with a fine display. We look forward to seeing both teams build on their success in Spring 2015, and hope to see other ClubFootball teams following in their footsteps too!