Sign Up Now for Autumn Courses and League Teams!
Posted on Saturday, August 02 @ 16:35:28 CST by cfpr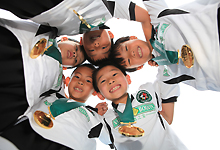 Register now for ClubFootball's Autumn junior coaching courses and advanced league teams!

Programmes run both midweek and at weekends at 30 venues across Beijing and Tianjin. All sessions are coached by ClubFootball's team of FA/UEFA qualified full-time professional coaches from the UK. For schedules, please see the links in red in the left-hand toolbar. Please also see the stories below for what's new for Autumn. In addition to the courses and advanced junior league teams listed, we'll also be running after-school programmes with partner schools across the city. Details of these will be posted as schools resume, and also sent out by partner schools. Please contact us for advice on the best option for your son or daughter.