CF Membership Scheme Powered By foneVillage
2010 CF Membership Powering Partner
CF Membership Scheme Benefits Categories
CF Membership Scheme Highlighted Partners
CF Member News - CF Online & SMS
ClubFootball Website Attacked By Team Of Gremlins!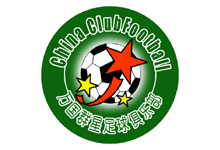 Aaaaaargh! Unfortunately we've been experiencing some technical difficulties with the CF website over the last few weeks!

We're working to fully restore our site, but in an effort to make available important announcements & info in the mean time we have decided to temporarily restore an older version of the site. With this in mind, please ignore any articles below this one (as they relate to 2010 not 2011!) and and note that some pages in this channel may be out of date. If you have any questions or queries please feel free to contact the club and we'll update you as soon as the info applicable to this channel has been restored. Sorry again for any inconvenience and thanks for your patience & understanding!
Rutgers Business School Becomes CF Online Partner!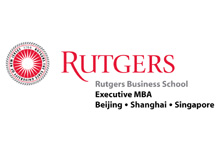 CF is delighted to announce Rutgers Business School as a new 'Online Partner'.

Rutgers' generosity, will allow the club to develop and launch a "Junior Channel" on its English and Chinese websites over the next 2-3 months, to allow us to communicate better with our junior communities. In addition, CF members will be able to attend select Rutgers events at discounted rates!

The club is proud to have such a distinguished partner, with Rutgers recognized globally by authorities such as the Financial Times, the Wall Street Journal & BusinessWeek as one of the world's foremost business schools. Read the full story for more information about Rutgers Executive MBA program in Beijing which is accepting new applications now, for the next intake in September 2009.
ClubFootball Soft Launches Member Channel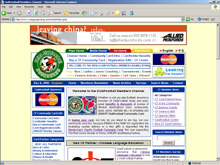 The beta version of the new CF Member Channel is now online! The official launch of the channel is planned within the next two weeks following final debugging and integration with the rest of the CF web site.

The initial version of the channel has been designed to better cater to the needs of cardholding members as the club expands and develops its membership scheme and the recently launched 2006/07 ClubFootball Community Card.
Visit the ClubFootball Photo Channel!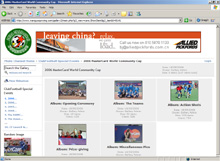 For shots of a different kind visit the ClubFootball Photo Channel which offers a range of pictures from ClubFootball's events and activities.

More than 200 photos from the 2006 MasterCard World Community Cup are now online and event participants are invited to send over their own favourite shots from the day to add to the official collection, kindly provided by CF partners Digitouch.
ClubFootball Soft Launches New Fan Channel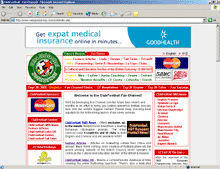 ClubFootball has soft launched its new Fan Channel accessible to users by clicking the red tab on the top of the page or clicking any of the red links in the header.

In particular the 'Feature Articles' section has received a much needed boost with scores of newly added articles covering a wide range of topics relating to football's history and culture.
United for UNICEF SMS Prize Competition Winners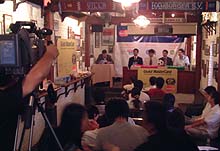 Congratulations to Christopher Humphrey, winner of a trip for two to Old Trafford to see Manchester United in action in the United for UNICEF SMS Prize Competition!

In front of assembled VIPs and journalists, Beijing Guo'an Deputy Chairman Zhang Lu and MasterCard International General Manager Willie Fung drew the lucky winner from the entrants who had correctly predicted the score of the Manchester United v Beijing Hyundai match held at the Workers' Stadium on July 26th.
Last chance to win a trip for 2 to Old Trafford!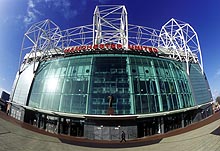 It's your last chance to enter the United for UNICEF SMS Prize Competition!

Simply predict the score of the Man United v Beijing Hyundai match on 26th July at the Workers' Stadium and you could win a trip for 2 to see United in action at Old Trafford! Closing date for entries to win the first prize is 19:30 on Tuesday 26th July. You can enter as many times as you like - the more times you enter, the more likely you are to win!
Win a Trip for 2 to See Man Utd at Old Trafford!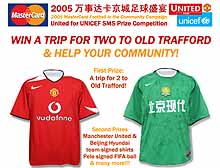 Enter the new United for UNICEF SMS Prize Competition and predict the score of the Man United v Beijing Hyundai match on 26th July and you could win a trip for 2 to see United in action at Old Trafford!

The United for UNICEF SMS Prize Competition is the second phase of the 2005 MasterCard Football in the Community Campaign which is raising money for local charity Beijing Hui Ling and the international charity 揢nited for UNICEF
ClubFootball launches new headline SMS services!
Get only the most important stories on Europe's major leagues and clubs by signing up for ClubFootball's NEW range of headline football SMS news services!

The new headline services deliver only the biggest news as selected by top sports journalists from the UK and cost only 0.3 Rmb per message! Four country and ten club news services are available, including the English Premiership, Man Utd, Arsenal, Chelsea, AC Milan and Real Madrid!
ClubFootball teams up with Xianzai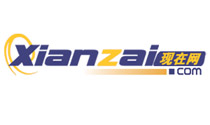 ClubFootball members can look forward to new upgraded club communications thanks to ClubFootball's new partnership with Xianzai!

China's leader in email promotions, email campaigns, and email information, Xianzai delivers over 17 million email subscriptions and promotions a month to mainland Chinese users using its secure email technology. In operation since 1997, Xianzai is managed by BDL Media Ltd, with offices in Shanghai, Hong Kong, and Beijing.

To check out the upgraded service and expanded range of ClubFootball newsletters on offer, please click here. For more information on Xianzai, please click to visit the Xianzai website.