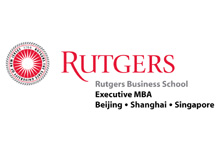 Congratulations to CF online partners Rutgers, whose Executive MBA program was ranked #21 on the list of Best EMBA programs reported by The Wall Street Journal.

Not only did the program score a very impressive overall ranking but it was also ranked #1 for administrative support, #12 amongst alumni and #7 by alumni in management skills. For more info about Rutgers and their Executive MBA programs in Beijing and Shanghai, please read the full story or visit their website and note that if you're looking to invest in yourself that there's still time to join Rutgers' 2010 intake!


About Rutgers EMBA Program

Rutgers Business School has been offering first-rate, graduate business instruction in China on a continuous basis since 1994, longer than any other American business school.

The Executive MBA classes are offered in Beijing and Shanghai with an innovative structure that allows a student to earn a fully-accredited American MBA degree in approximately 14 months.

The program's 18 courses (14 core courses and 4 advanced courses) are taught in English by Rutgers Business School's distinguished faculty from the United States, all of whom have international reputation for excellence in both teaching and research.

Courses are conducted approximately once a month over a nine-day period. The classes are held all day on two consecutive Saturdays and Sundays, plus three-hour sessions on Tuesday and Thursday evenings during the week.

Class sizes allow maximum interaction between instructors and students. Typically, there are more than 15 nationalities represented in every class, making Rutgers the only program in China to offer this kind of diversity.