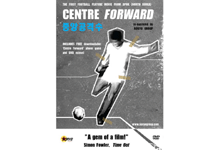 North Korean experts, Koryo Tours have announced that the DVD of the much-heralded Centre Forward film is now available for purchase.

Produced in 1973, Centre Forward was the first football-themed movie ever made in North Korea, and has never been released outside the country - until now. Koryo Tours' special edition is digitally remastered and includes English subtitles as well as a special "making of" documentary featuring players from the much-storied 1966 World Cup Football Team (see Koryo Tours' documentary The Game of Their Lives), many of whom worked as consultants on the film. Please read the full story for more info!


For more information and a movie trailer, see http://koryostudio.com/mov_04.html; the DVD is available exclusively from Koryo Tours for RMB 100 or the equivalent in pounds sterling, Euros or USD, plus postage and shipping if applicable. The perfect gift for the film buff who has everything, this is especially topical following the DPRK's involvement in the 2010 World Cup, their second time in history. This long-forgotten gem of a sports movie will fascinate football fans and DPRK-enthusiasts alike.