Summer 2004 - ClubFootball Summer Champions League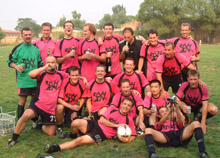 Tournament News
Sexy FC are Champions of the ClubFootball Summer Champions' League 2004! Sexy clinched the title beating defending champions the Vikings 3-1 in a closely-fought final.

After an even first half hour contested mostly in midfield, Sexy made the breakthrough in the 31st minute when a corner to the backpost was headed back into the path of Emre Demokan who made no mistake from 15 yards with a low finish. Four minutes later, Sexy went 2-0 up, again from a corner, with defender Sam stooping to head home from close range. The Vikings were in no mood to give up their title and battled back, coming close on a couple of occasions, and in the 41st minute they got the goal their play deserved when Nicolaj Hansen netted on the break to make the score 2-1 at half-time

In the second half, the Vikings fought bravely to bring the scores level without creating too many clear-cut chances, and in the 75th minute they were punished on the reak when Sexy captain Ross Parsonage rounded the keeper and slotted home from a tight angle to make the score 3-1 and the match safe for Sexy.

Congratulations to Sexy FC on a deserved first Summer Champions' League title; hard luck to the Vikings who will be back next year with a point to prove. Congrats to tournament topscorer Xiang Sishuo of CNC with 9 goals, and to Snickers on winning the " Plate Competition". Congrats also to match officials Petros Hagos, Candi, Wang Hao Chen and Derbe on an excellent level of refereeing throughout the tournament.


Please click on a link above for results, fixtures, tables and photo galleries.
ClubFootball SCL Final Stats

Position
Team

Goals
For

Goals
Ag.

Goal
Diff.

Yellow
Cards

Red
Cards

Top Scorer
1st
Sexy FC
26
7
+19
11
0
Ross Parsonage 7
2nd
Beijing
Vikings
19
11
+8
5
0
Lasse, Jostein Portreit, Eskil Kappel 3
3rd
Joy United
18
5
+13
9
1
Cui Lei 5
4th
CNC
17
11
+6
7
0
Xiang Sishuo 9
5th
Beijing
Drifters
24
16
+8
8
1
Mirsad Midzic 6
6th
Beijing
Waccies
23
11
+12
5
0
Rowan Simons, Andy Mo, Nick Otto 4
7th
Light
Speed
26
13
+13
9
1
Yang Zhaoyu 7
8th
Beijing
Cosmos
14
19
-5
5
0
Sheng Mingzhi 4
9th
Snickers
26
11
+15
0
0
Zhang Hao, Wu Di 5
10th
Athletic
Barbarians
13
14
-1
10
2
Bruce Chen, Lee Green, Will Taylor, Steve Barnett 2
11th
Club Joy
16
22
-6
2
1
Pan Wei 4
12th
F-16
12
21
-9
11
0
Jiao Lei 3
13th
Beijing
Rangers
9
25
-16
6
0
Gianni 2
14th
Beijing
United
9
35
-26
3
1
Sha Zhan 2
15th
Hong Kong
12
27
-15
4
0
Quo Qiang, Keung, Matthew 2
16th
Beijing
Hawks
0
18
-18
0
0
n/a
Next Page (2/5)