Spring 2004 - ClubFootball Amateur Premier League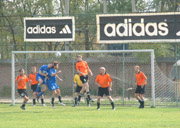 Tournament News
The Wanderers are champions in the Premier Division, despite losing 0-1 to the Barbarians in their final match. In a tight match, the Barbarians beat an understrength Wanderers side 1-0 thanks to an Alex Graham penalty. With the China Lawyers unable to fulfill their final fixture and everyone else too far behind to catch up, the Wanderers finished in top spot with 16 points. The Barbarians finished second on 13 points. In the final make-up game of the season, a brace from Accies striker Toony Henderson was decisive as the Accies dispatched Club Joy 3-1 to secure a respectable mid-table finish after a very poor start to the season.

First Division Champions are Beijing Athletic! Needing only a draw in their final match to clinch the title, Yuanhuang Shengshi lost 1-2 to a determined and disciplined Cosmos side to hand the title to the Athletic by the narrowest of margins. The Mighty Athletic, Yuanhuang Shengshi and Cosmos all finished level on points with Athletic's free-scoring forward partnership of Jorg Winkel and Kerry McBoe proving decisive as the Athletic took top spot thanks to their very impressive goal difference!

Kerry McBoe finished the competition as First Division Topscorer with an impressive 9 goals. In the Premier Division, top marksman was Zhang Hao of Snickers who netted 7 times!

Please click on a link above for full Amateur Premier League and First Division web sections.
| | | |
| --- | --- | --- |
| Premier Division | | First Division |
| 1. Barbarians | | 1. Beijing Athletic |
| 2. Beijing Accies | | 2. Beijing Rangers |
| 3. Beijing Drifters | | 3. Cosmos |
| 4. Beijing Wanderers | | 4. Hong Kong FC |
| 5. China Lawyers | | 5. ISB Dragons |
| 6. Club Joy | | 6. Meng J |
| 7. Snickers | | 7. Moppers |
| 8. Taihelongchang | | 8. Yanhuangshengshi |

First-aid kits for use at the ClubFootball Amateur Premier League and First Division are sponsored by the Beijing United Family Hospital.

For more information, please click here to visit the United Family Hospitals & Clinics website.
Next Page (2/5)