Summer 2003 - ClubFootball Summer Champions' League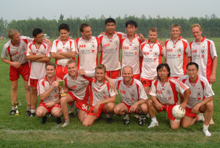 Tournament News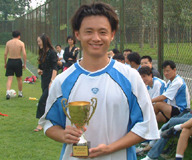 Congratulations to the Beijing Vikings (above), winners of the ClubFootball Summer Champions' League 2003. In a dramatic final, the Vikings edged out Heng Dong in a thrilling penalty shootout after the match had finished level at 3-3 after regulation time.

Trailing 1-3 after an hour to a Heng Dong side inspired by Luo Yang (left - winner of the tournament's Most Valuable Player award), the Vikings rallied, scoring twice in the final quarter of the match to take the match into extra-time and a "golden goal" finish.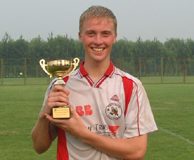 After an exciting but goalless 30 minutes of extra-time the scores were still level at 3-3, the final going to penalties. In a tense penalty shootout, the Vikings scored 4 to Heng Dong's 1 to take the title in a final fitting of any competition. Top scorer of the tournament was Hans Poulsen (right) of the Vikings, who finished the competition with 7 goals.

For more detailed tournament results and information, please click on a link above.

Due to a recent IT upgrade, we are temporarily unable to upload photos from the competition. Apologies for any inconvenience; please check back soon for full competition photo galleries!
Next Page (2/3)