Winter 2012 - ClubFootball Indoor 5-a-side Cup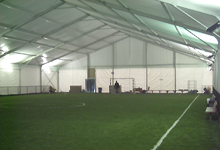 Tournament Outline
Sign up now for ClubFootball's 2012 Winter Indoor 5-a-side Cup!

Held on the indoor artificial pitch at the Bodyworks Fitness Centre inside the Lido Place complex, the competition takes place on Tue and Wed evenings and is contested by 8 invited teams,.

The competition runs over 6 weeks from 10th January to 29th February 2012. The 8 teams are divided into two groups of 4 with each team playing one match of 60 mins (2 x 30 mins) each week. In the initial group phase, each team plays the other 3 teams in the group, over 3 weeks. The top 2 teams in each group then advance to contest a further group of 4 over weeks 4-6 to determine Positions 1-4, and the bottom 2 teams in each group play for positions 5-8.

Results and tables will be posted on the ClubFootball website, and trophies awarded to the Winners and Runners-up.


Tournament Format and Rules


All matches will be refereed by a ClubFootball member of staff, and players and teams not competing in the spirit of Fair Play expected by participants will be expelled from the tournament.


Season Dates: Stage 1: 10th/11th Jan, 31st Jan/1st Feb, 7/8th February, Stage 2: 14/15th, 21/22nd, 28/29th February 2012.



Venue: New covered indoor turf pitch at Bodyworks Fitness Centre, Lido Place, 6 Jiangtai Road (Jiangtai Lu), Chaoyang District, Beijing (please note that football boots are permitted on the turf. Metal studs are prohibited).



Tournament Structure: 2 groups of 4 teams, with the top 2 teams advancing to play for positions 1-4,and the bottom 2 teams playing for positions 5-8.



Time: Session 1: 20:00 - 21:05pm, Session 2: 21:10 - 22:15pm



Substitutions: Five-a-side teams with a maximum of 7 rolling substitutions



Format: Games divided into two halves of 30 minutes, with 5 minute break for half-time. Teams play one match per week on either Tuesday or Wednesday.

Please note that all competing teams must be available to play on either Tuesday or Wednesday.



Registration deadline: Deadline for registrations is 12 noon on Monday 12th December 2011. Places are limited and will be allocated at the discretion of ClubFootball once all applications are received on Monday 12th December.
Please click here for details of registration fees, procedures and how to register.
Next Page (2/6)