Spring 2003 - ClubFootball Amateur Premier League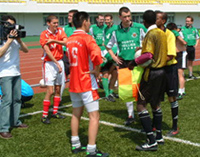 Tournament Introduction
The ClubFootball Amateur Premier League is the club's weekly league tournament and is contested by a mixture of foreign, local, corporate and amateur teams. The Spring 2003 competition was held during May and June 2003, and was contested by 8 local and foreign amateur teams.
Matches were held at the club's own grass pitch facility at ClubFootball Dongbeiwang, and at the Chaoyang Sports Centre. Congratulations to champions Beijing Accies, and to Accies' striker Li Fan, who finished league top-scorer with 14 goals in the six matches he played!

Tournament Photo Galleries - NEW!
Please click here to visit the redesigned ClubFootball Amateur Premier League Photo Galleries.

Tournament News - Week 7
After an explosive final round of matches, the newly-crowned champions of the ClubFootball Amateur Premier League are the Beijing Accies! The Accies won both of their weekend matches to finish the competition undefeated, with 19 points from a possible 21, 3 points ahead of Beijing TV in second place on 16!

The first of Saturday's matches saw the Accies play some excellent football to record a fine 6-2 win over Beijing Celtic, while in the second, Huan Xin Heng Hui found their form in front of goal to beat Club Joy 6-3.
On Sunday with the title race going to the wire, the Accies squeezed home 2-0 against Huan Xin Heng Hui to stake their claim and leave Beijing TV needing to beat the Strollers by five clear goals to snatch the title. It was not to be for BTV, as they saw their chances of the title go up in smoke, losing 1-2 to a revitalised Strollers side in a bad-tempered contest.
Performance of the weekend however goes to the Beijing Drifters who notched up their first win of the competition with an unexpected but well-deserved 3-2 win over the Beijing Wanderers!
Next Page (2/14)