Spring/Summer 2010 - ClubFootball Midweek 5-a-side League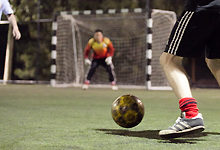 Tournament News
Congratulations to Real Ancient, ClubFootball 5-a-side champions! After coming second several times in recent seasons, Tony Lee's men finally took top prize on goal difference from Russia Utd in an exciting final day of matches!

Defending champions Afrika Reds pipped Russia 4-3 on the final day to end the Russians championship hopes before going down 0-2 to Sporting de Carman in their final match when a victory would have retained their title!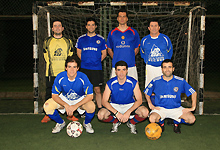 In Division 2, 3 sides (Suramerica, Suede and Forbidden City) finished locked at the top on 27 points, with Forbidden City losing out on goal difference ! Well played to the South Americans on their quick return to Div 1, and good luck to Suede in what will be their first appearance in the top flight this Autumn. League media partner City Weekend blew the competition away in Div 3, finishing with an outstandng 14 straight wins - the only team with a 100% record in the season. They'll be joined in Div 2 next time by the Russian Embassy who finished second.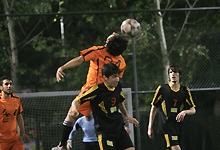 The Newbees and Summer Palace shared top spot in Div 4, while Bertil Donker's Chaoyang Park Rangers side topped Div 5. Also moving up will be Russia Utd 2 who held off a challenge from the Russian Embassy 2 side to take the second promotion spot.
Muff Justice and Sky finished top of Div 6 on 34 points, with the Muff men taking first place by virtue of their stunning goal difference - a mighty 80 goals in 14 games with only 18 against was the best goal difference across all divisions, and enough to give them top spot.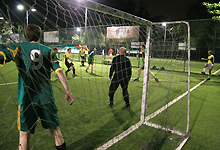 TBC FC recovered from a slightly shaky finale to the season to remain in first place in Div 7, with Bei Tai Utd taking second spot ahead of a Shanzhai Rovers side who lost 3 of their last 4 games to lose out on a promotion place.

An undefeated Core Utd side finished a massive 10 points clear in Div 8; hats off too to Najim Lehaire's plucky Drinking Beagles side who improved steadily throughout the season and took second spot in a dramatic finale with Lei Shing Hong Star!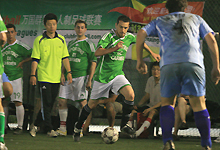 For full tournament results and standings, please click on a link above.

Full tournament galleries and team pics will be posted shortly - please watch this space for details.

Due to the very late finish to the season due to pitch repairs and weather, trophies will be sent directly to captains in the coming week. ClubFootball staff will be in contact with captans shortly to confirm delivery arrangements.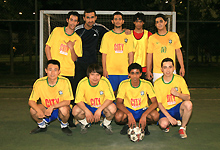 Next season of the ClubFootball 5-a-side League will kick off the week beginning 10th August.

Full details will be available and posted on the site in the next few days; new teams keen to join can click here to mail us to receive info by Email.

Thanks to everyone who took part in the Spring season, and to Media Partners City Weekend on their support of the competition!


Next Page (2/12)