Jan/Mar 2005 - ClubFootball Indoor League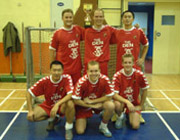 Please click on a link above for more tournament information.

Tournament News
Congratulations to ClubFootball Indoor League Spring 2005 Champions, the Beijing Vikings!

In a tense final round, the Vikings pipped Spain 7-5 to inflict a first tournament defeat on the Spanish team and pillage their way to a second successive title, with 40 points from their 16 matches!

The Spanish team finish in second place, a point behind the Vikings on 39, and also finished as the tournaments top scorers with 120 goals scored in their 16 matches! In third place were Inner City on 37 points, and fourth were Forbidden City, three points further back on 34. Please click for full ClubFootball Indoor League tournament results and the final league table.

On Fri 1st April, we'll be presenting the trophy to the winners (and having a few beers!) from 8pm at the ClubFootball Centre. Everyone is welcome, not just the winners, and there will be cheap drinks and snacks for all. We'll be videoing the Vikings-Spain decider on Tuesday, and replaying it on Friday at 8pm too.

If your team hasn't already signed up for the ClubFootball Outdoor 5-a-side League, please sign up now. There will be two divisions of 9 teams, so please get your team registration form and fees to Gary Saunders at ClubFootball asap to reserve your team a place!

Please click on a link above for full indoor league results, fixtures and tournament rules. Please take particular note of the new rules for this competition which are in red. Individual players who would like to take part should contact ClubFootball asap to enter.


Next Page (2/4)