Oct/Dec 2004 - ClubFootball Indoor League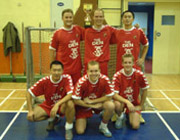 Please click on a link above for more tournament information.

Tournament News
Congratulations to the Beijing Vikings, ClubFootball Indoor League Champions Autumn 2004! The Vikings sealed the title with an 11-2 win over the Drifters in the final round of matches.

Runners up were the free-scoring Spanish side who recovered from a poor start to pip Sexy FC and Forbidden City for second place. Forbidden City beat Sexy FC 7-4 in the final game of the competition to finish third with Sexy FC back in fourth.

The Winter League will kick off on Thursday 20th January. Teams who would like to take part should contact ClubFootball asap to enter.

Tournament Stats
Champions:Beijing Vikings
Runners-up: Spain
Total Goals: 565
Average Goals per Game: 7.8
Best Goal Difference: Beijing Vikings, +52
Top Scorers: Spain (92 goals scored in 16 games, 5.75 per game)
Best Defence: Forbidden City (35 goals conceded in 16 games, 2.2 per game)


Please click on a link above for full indoor league results, fixtures and final standings.
Next Page (2/4)