March 2003 - IFFC World Cup 5-a-side Tournament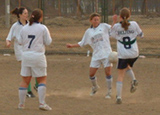 The 2003 IFFC 5-a-side Tournament was held at Laiguanying, Beijing, with over 30 teams from 6 continents competing. Winners of the Men's Tournament were the Beijing Strollers, representing England, while the 2 ClubFootball Ladies' teams finished in a very respectable third and fifth positions.
Please click Here for a photo gallery of the rournament
Copyright © by China ClubFootball - the home of amateur football in China All Right Reserved.
[ Go Back ]